Chapitre 4: Wild Life....
(notes de Jacques Ciel*)
Les jours passent. j'ai perdu le décompte des jours. ici le temps passe différemment semble-t-il, c'est inexplicable. l'Arc fonctionne! passé beaucoup de temps à m'entrainer. perdu beaucoup de flèches inutilement aussi. je me dis jacques, ne tire pas de trop loin. et puis enfin j'ai tué mon premier animal. Une pintade. plumée et rôtie sur le feu. délicieuse. gardé des plumes pour décorer l'arc. Il est très joli comme ça! ces oiseaux pullulent dans le coin. beaucoup d'animaux ici. l'autre jour trouvé un lapin mort. sans doute tué par un renard et laissé là parce que je l'avais dérangé. délicieux aussi. vu aussi des élans au loin et une harde de cerfs vient souvent boire au ruisseau. je sais où les trouver. pas assez sûr de moi pour essayer d'en tuer un mais ce sera pour bientôt.

j'ai mangé des champignons. tant pis je me disais, mourir de faim ou mourir empoisonné par un champignon pas de différence. délicieux. la solitude est lourde. heureusement toujours quelque chose à faire ici. surtout trouver à manger. je sens l'automne arriver maintenant. les nuits sont plus fraiches. les arbres prennent des couleurs. paysage magnifique. demain je vais chasser le cerf "
"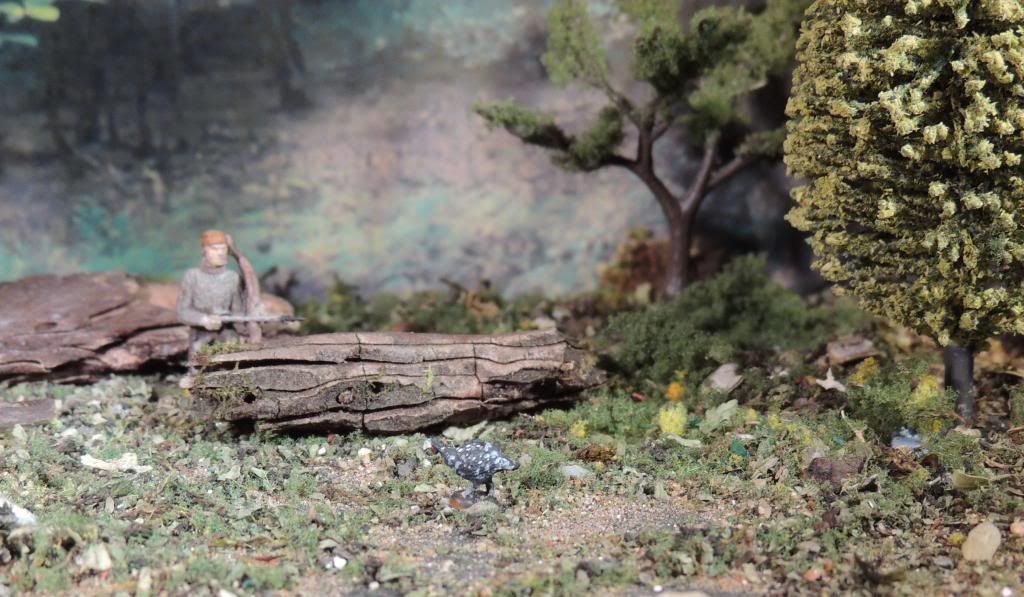 [ je reprends le récit reconstitué à partir des notes de Jacques Ciel (S.G.) ]:
Cette nuit, j'ai entendu les loups hurler. J'ai très mal dormi et j'ai alimenté le feu continuellement. Malgré le manque de sommeil, je n'ai rien changé à mon projet. J'ai enfilé des vêtements confortables et discrets qui étaient dans la pack de survie du Curtis, pris mon arc et mes flèches et je suis parti alors qu'il faisait encore noir. Quand le jour s'est levé, j'étais déjà posté à l'affut en bordure d'une clairière où je savais que la harde venait fréquemment . Je n'eus pas à attendre très longtemps! A une centaine de mètres un grand cerf et deux biches

sortirent de la forêt, prudents, tous les sens aux aguets. je ne bougeais pas d'un pouce. Ils étaient encore trop loin, il fallait que je sois patient. Mon arc était prêt, une flèche encochée et une autre plantée dans la terre à

portée de main.
C'est alors qu'il se produisit quelque chose qui me cloua sur place: une bande de loups s'étaient approchée silencieusement et entourait maintenant le groupe de cervidés! Deux d'entre eux les sentirent mais les loups étaient maintenant très proches. trop proches. Les deux biches s'élancèrent et réussirent à s'enfuir d'un bond prodigieux et magnifique au-dessus des loups. Ceux-ci en furent décontenancés tout d'abord, mais rapidement firent face au cerf qui, Dieu sait pour quelle raison, n'avait pas bougé. Peut-être voulait-il protéger la fuite des femelles ?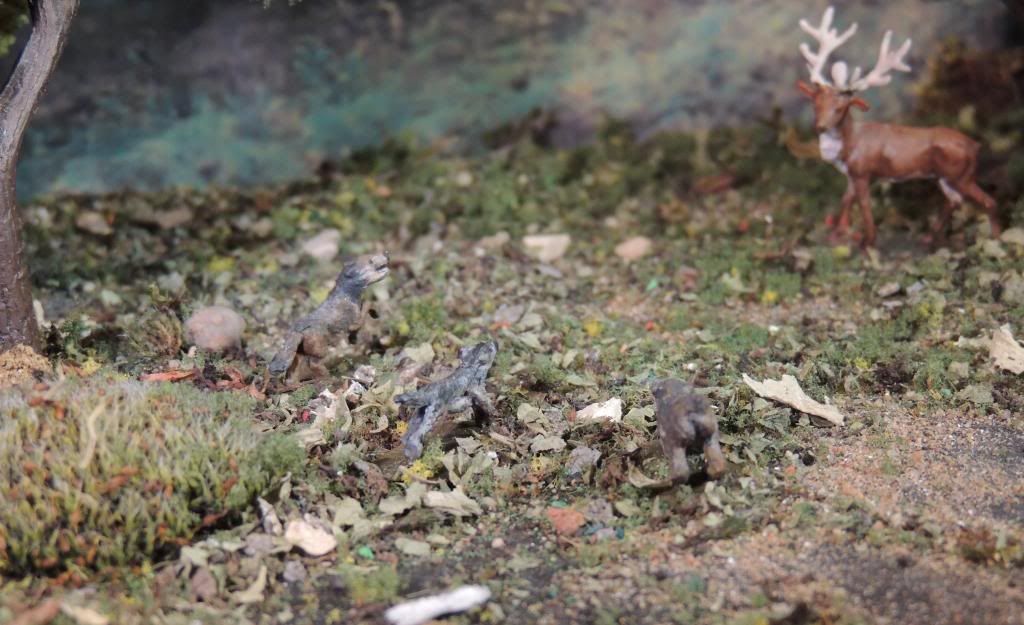 En tout cas, il baissa la tête et présenta ses bois immenses aux andouillers comme des poignards

aux prédateurs qui esquivaient, tournant autour du cerf, faisant mine de l'attaquer et resserrant l'étau petit à petit. L'un d'entre eux s'élança dans le dos et mordit rageusement la cuisse de leur proie. Il le paya d'un coup d'andouiller qui le mit hors de combat pendant un moment.
Mais un autre avait profité de la situation pour attaquer à la gorge et il l'avait entaillée profondément. Le sang coulait. Et maintenant tous les combattants avaient le pelage qui rougissait par endroits. Le cerf commençait à fléchir. Les
loups n'avaient plus qu'à l'achever. Les trois bêtes se jetèrent sur lui
et l'animal tomba enfin non sans avoir blessé au passage un autre loup!
Les loups m'avaient privé de ma chasse! Je n'étais pas décidé à me laisser faire! Sans réfléchir, je me ruai vers eux, en hurlant comme un fou, le poignard brandi! Ils se tournèrent vers moi puis après quelques instants d'hésitation ils reculèrent, me regardant avec défiance.
Et puis la surprise se transforma soudain en peur. Ils ne comprenaient pas quelle était cette furie qui leur fonçait dessus en hurlant! Sans doute n'avaient-ils jamais rencontré une telle sauvagerie. J'étais comme fou, fou de rage et de bestialité. Les loups alors préférèrent faire demi-tour et ils s'enfuirent! Je les poursuivis un moment puis je m'arrêtais, hors d'haleine, hors de moi. Je me sentais plus fort que tout et je poussai un terrible cri de victoire: je n'étais plus humain alors....
Je repris un peu mes esprits et je retournai près du cadavre du cerf. Le sang coulait encore, tout chaud, et je fus tenté d'en boire mais la prudence m'en empêcha, et je me contentai de tracer des peintures de guerre sur mon visage....
J'avais à manger! Je prélevai le foie et le cœur et j'allumai un feu à côté de la dépouille. J'y fis cuire les morceaux sur des brochettes que je tenais au-dessus des flammes. Je les mangeai à moitié carbonisés, mais c'était délicieux!.....
*Note de l'éditeur: à partir d'ici, S.G. a choisi de reprendre intégralement certaines parties des notes du Capitaine Jacques Ciel pour, semble-t-il, rendre compte plus fidèlement de son état d'esprit.
*********************************************************************************
Chapter 4 : Wildlife ....
( notes of Jacques Ciel*) " The days are passing . I lost count of the days. time passes differently here , it seems , it's inexplicable. The Arc works! spent a lot of time to train me
. needlessly lost a lot of arrows too. Jacques,

I said , do not shoot from too far

and then finally I killed my first animal, a guinea fowl . plucked and roasted on the fire. delicious . feathers to decorate the
Bow. he is very nice like that! these birds abound in the area. many animals here . the other day found a dead rabbit. probably killed by a fox and left there because I had disturbed him . delicious too
. also saw elks in the distance and a herd of deers go often

drinking

at the creek . I know where to find them . not confident enough to try to kill one but it will be soon . I ate mushrooms. both
too bad I thought, starve or die poisoned by a fungus no difference. they were delicious. loneliness is heavy. fortunately always something to do here. mostly find food .
I feel
Autumn coming . nights are
fresher . trees take colors. magnificent landscape. tomorrow I will hunt deer "
[
then the

story

reconstructed from

notes

Jacques

Heaven (

SG)]


That night

, I heard

wolves howling

.

I

slept very badly

and I

fuelled

the fire

continually

.

Despite a lack of

sleeping

, I have

changed anything

in

my project.

I put on

comfortable

and discreet

clothes that were

in the

Curtis

survival
pack
,

took

my bow and

arrows

, and I left

while it was still

dark.

When the

day broke

, I was

posted

to

the lookout

on the edge

of a clearing

where I knew

the herd

came frequently

.

I did not have

to wait very long

!

At about hundred

meters

from me,

a large

deer

and two

hinds

went

out of the woods

,

cautiously

,

all

senses in alert

.

I did not move

an inch.

They were

still too far away

,

I had to

be patient

.

My bow

was ready,with

a notched

arrow and
another one
planted in the ground

.
But
something happened

that

nailed me

on the spot

:

a wolf pack

had

approached

silently

and now

surrounded the

group

of deers

!

Two of them

felt

but

the

wolves

were now

very close,

too close.

Both

hinds

rushed

and

managed to escape

with a prodigious

and beautiful

leap

above the

wolves

.

They

were taken aback

by

all

at first, but

the deer
,

God knows

why

,

had not moved and he faced the wolves

.

Perhaps

he wanted to

protect the flight

of the females

?
In any case,
he bowed his head

and

offered his

immense woods

with

antlers

like

daggers

to the

predators who

dodged

,

running

around

deer

, pretending

to attack

and

gradually

tightening

the noose

.

One

of them

rushed into

the back

thigh

of their

prey.

and bit

furiously.

He paid

his attack with

an

antler

hit that

put him

out of action

for a while.

But another

had taken advantage of

the situation

to attack

the throat and

he had

deeply

notched

.

Blood flowed

.

And now

all

the fighters had

the

coat that

was blushing

in places.

The deer

began

to decline.
Wolves
had only

to finish their work

.

The three

beasts

fell together upon

him

and finally the

animal fell

not without

have injured another

wolf!




Wolves

had

deprived me of

my hunt

!

I was not

decided

to let me

do it!

Without thinking,

I

rushed for

at them

, screaming

like a madman,

brandishing

the

dagger

!

They looked toward

me

and after

a few moments of

hesitation,

they went backward

, looking at me

with distrust

.


And then

the surprise

was transformed

suddenly

fear

.

They did not understand

what was the

fury that

hurtled

at them

screaming

!

No doubt

they

had

ever encountered

such savagery

.

I was like

crazy,

full of madness

and bestiality

.

Wolves

then

preferred

to turn back

and flee

!

I

pursued

them a moment and then

I stopped,

out of breath

.

I felt

stronger than anything

and

I uttered a

terrible

shout of victory

:

I was not

a human

then

....
I regained
my mind
a little
and went back
near the corpse
of the deer.
Blood flowed
again, all
hot,
and

I was tempted

to drink

it but prudence

prevented me to do

,

but

I merely

draw

war paintings

on my face

with the red liquid....




I had to eat

!

I took the

liver and

heart

and

I lighted

a fire

beside

the corpse

.

I

bake the

pieces

on skewers

I held

above

the flames.

I

ate

the meet

half

charred

,

but it was so delicious

! .....
*

Editor's Note

:

from

here

, SG

has chosen

to fully adopt

some parts of

of

Captain

Jacques
Ciel's
notes
,

it seems

,

to reflect more fully

his state of

mind.